Smile Easy Again with Fixed Hybrid Dentures
If you've suffered from tooth loss, bone loss, or periodontal disease, you may be hesitant to smile big – or at all. But with innovations like fixed hybrid dentures making mouth restorations quicker, more effective, and less expensive, a beautiful smile may be in your future.
What are Fixed Hybrid Dentures?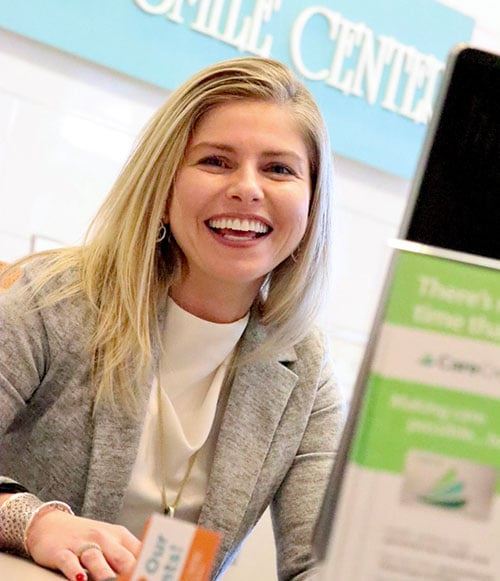 Unlike removable dentures, fixed hybrid dentures – also often called "teeth in a day," implant dentures, or fixed implant dentures – use as few as four implants to replace an entire upper or lower set of teeth. Hybrid dental implants are an especially great option for those replacing teeth due to gum disease or bone loss. The process offers a natural-looking, comfortable, and permanent solution to help restore a patient's smile and provide optimal oral function.
"What's better about fixed hybrid implants is they're fixed in place and replicate your natural teeth in function, comfort, and appearance," says Dr. Maya Bachour, DDS of Loudoun Smile Center. Traditional dentures are custom-made to fit over gums and stay in place with suction or dental adhesive. They must be removed for cleaning and refitted/replaced about every five years.
Dr. Bachour DDS says patients who are missing most or all of their natural teeth are good candidates for permanent dentures. "Fixed hybrid dentures are also a great choice if you don't have the bone density to support a single implant restoration or if you have teeth that can't be restored," she says.
Fixed Hybrid Dentures vs. Traditional Dental Implants
With the permanent denture procedure, teeth aren't replaced individually or via implant-supported bridges. Your dentist will anchor a set of four titanium posts into the jawbone to serve as the main anchors for a permanent denture that is then inserted in those quadrants. While both procedures involve drilling sockets into the jaw bone, fixed hybrid dentures require fewer implants, making it a more efficient and comfortable process.
"If you don't have sufficient density in your jawbone, you'd typically have to undergo a lengthy bone grafting procedure to support the six to 10 implants required with traditional implants," says Dr. Bachour. "Implant dentures require just four implants per arch, so the whole procedure is quicker and much more comfortable for the patient."
"Teeth In a Day" with Lasting Results
While traditional implant procedures can take three to eight months to complete and recover from, fixed-hybrid dentures can be implanted and fitted in a day – and can last over 25 years. While you get to leave the dentist's office with a set of beautiful teeth, you still have to go easy on your new pearly whites for a while. Be sure to eat soft foods, exercise preventative oral hygiene, and practice proper teeth brushing techniques.
Recovery Time and Potential Problems
Unlike regular dentures, this type of denture is slightly more invasive. For this reason, patients typically will experience some swelling, bleeding, and bruising in the days post-surgery. However, implant dentures fuse to the jawbone more easily promoting more stability and faster recovery compared to other tooth replacement options. Your dental team at LSC will review specific oral hygiene instructions before surgery – after that, you'll focus on brushing and flossing daily and scheduling regular dental checkups.
Complications with fixed hybrid dentures are rare but occur with some patients. In about 5 percent of cases, the implant will not fuse to the bone, leading to "implant failure." While infection rates are very low, they can occur if the area gets contaminated during surgery or a patient doesn't follow post-surgery care instructions carefully.
Bottom line? The experience of your dental surgeon is the most important factor in lowering the risk of implant issues. Loudoun Smile Center works closely with an experienced oral surgeon and specialized dental laboratory to ensure optimal results with your fixed-hybrid dentures.
How Much Do Hybrid Dentures Cost?
Fixed-hybrid dentures require fewer implants in the jaw than traditional methods, making the procedure less time-consuming and less costly than a full set of dental implants. The type of implant material chosen, the number of teeth needed, and whether you have dental coverage will affect the total cost. Acrylic or composite implants can range in price from $20,000 to $30,000, while porcelain implants can range from $25,000 to $35,000.
Dentures in Ashburn, Virginia
Wondering if you are a potential candidate for permanent dentures? Our experienced team at Loudoun Smile Center can help – Schedule a consultation!