For years, chips, cracks, and gaps in teeth were fixed with dental bonding. Then along came porcelain veneers, an ultra-strong and stain-resistant option that delivered movie-star smiles to millions of ordinary people.
The Bioclear Matrix system is the latest advancement in cosmetic dentistry. Bioclear is an alternative to porcelain veneers effective for fixing chipped, discolored, weakened, crooked, and even undersized teeth.
Bioclear vs. Traditional Veneers

Unlike porcelain veneers, which require removing healthy tooth structures to provide room for restoration, Bioclear doesn't entail shaving the tooth's enamel. Instead, Bioclear dentists add onto the enamel by wrapping a dental composite around a tooth to strengthen and improve its appearance. This allows patients to conserve their natural tooth structure while delivering comparable results.
"Our natural teeth provide the best functionality, so the longer we can keep a patient's original tooth structure within the oral cavity, the better," says Maya Bachour, DDS, owner of Loudoun Smile Center. "It's a big reason many of our patients are choosing Bioclear as a safe and minimally invasive alternative to porcelain veneers."
Nearly undetectable, the dental composite used in Bioclear is customized to match the color of a patient's other teeth. The durable and ultra-thin veneers are highly resistant to coffee, tea, wine, and even cigarette stains, typically lasting about 10 years.
Why Get Bioclear as an Alternative to Traditional Veneers?
Getting Bioclear veneers is also a shorter process than what is involved with porcelain veneers. For each tooth being worked on, the dentist preps the area and selects a thin mylar form or "matrice" to provide a mold for a new tooth surface. The dentist will then inject a composite resin into the form, which is hardened using ultraviolet polymerization. The last step is shaping and polishing to create a shiny, smooth, and natural-looking tooth.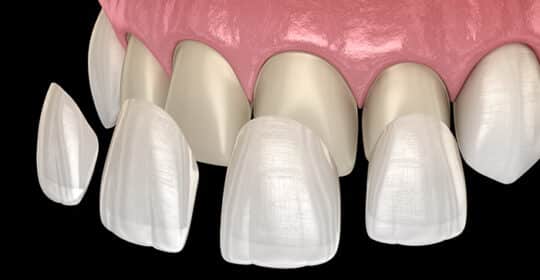 "Traditional porcelain veneers must be created in a lab after we take a mold of a patient's teeth, so overall it's a more time-consuming process," says Dr. Bachour, who is certified with advanced training in the Bioclear Matrix method. "My patients get to walk out of our office with beautiful new teeth the same day using Bioclear veneers. That's a real plus for them."
5 Reasons You Should Consider Bioclear
Besides taking less time and preserving a patient's natural tooth structure, Bioclear veneers are:
Typically less expensive than porcelain veneers
Safe for the gums
Easily repaired if damaged
Longer lasting than dental bonding and as long lasting as porcelain veneers
More resistant to staining than dental bonding
Frequently Asked Questions
Is Bioclear Safe?
Bioclear veneers are widening the options for cosmetic dentistry—but they aren't for everyone. If you're facing major dental health issues, such as tooth decay, bone loss, or gum disease, your dentist may recommend a more restorative option such as a crown or dental implant.
Does My Dental Insurance Cover Bioclear Veneers?
While most cosmetic procedures, including Bioclear, are not covered by dental insurance, be sure to check your options with your dental billing specialist. Considering Bioclear teeth or another cosmetic dentistry option? Contact our Bioclear dental experts at Loudoun Smile Center to learn more or to schedule an appointment!